Can I claim for undiagnosed fractures?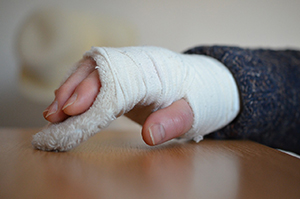 The law surrounding clinical negligence is extremely complex, and most people assume that to claim compensation for medical negligence, a patient must have been left with life-changing injuries or illnesses. This is not the case, you can actually claim compensation for all injuries and illnesses that were a result of a doctor's negligence.
Common clinical negligence cases include: surgical errors, misdiagnosis of illness, mis-set broken bones, and diagnosis delays that resulted in more serious illnesses developing or even death. In this article we are going to discuss undiagnosed fractures and if you can make a claim.
What is an undiagnosed fracture?
Put simply, an undiagnosed fracture is a break in a patient's bone that isn't picked up by a doctor during an examination. Broken fingers and toes are especially common, but these tend to heal on their own, with very little need for medical assistance. However, fractures in areas such as the skull, ribs, legs and arms are far more serious, and if left untreated can lead to serious complications such as bones healing in the wrong position, or bones breaking and rupturing internal organs. If this has happened to you, you may be entitled to compensation.
How can fractures be missed by medical experts?
In today's world of modern healthcare technology, you would think that fractures are easy to spot, but unfortunately, there are a number of reasons why medical experts miss them. One of the most common reasons is a doctor's inexperience, but fractures can also be missed if no x-ray was taken, the wrong images were taken by the x-ray, the fracture wasn't easily visible on the x-ray, or the x-ray results weren't passed on to a doctor. Medical experts may also miss fractures because patients occasionally display symptoms that don't normally present themselves with fractures – but a doctor should be expected to conduct a thorough examination anyway, to rule out the possibility of a fracture.
How do I make an undiagnosed fracture claim?
Due to the large number of reasons that could lead to fractures being missed or misdiagnosed, not all missed fracture cases will give rise to a claim; it's important to bear that in mind before beginning legal proceedings. Like all personal injury claims, to make sure you give yourself the best chance of success you will need to provide proof that your injuries were due to a fault committed by the other party. Don't forget that personal injury claims are subject to stringent time frames, so if you feel you have a claim, don't delay!
To make a successful undiagnosed fracture claim, you must prove that the fracture was incorrectly treated or undiagnosed, in either case, you must prove that you were provided with treatment that didn't reach the standards expected of a competent medical professional. If you have a copy of your x-ray which shows the fracture, this will greatly enhance your chances of success, but obtaining these documents can be difficult.
The amount of compensation you receive from a successful claim will also depend on the severity of the fracture, and the complications that arose as a result of it not being diagnosed. If you had to take time off work, or your quality of life was seriously affected, then you are likely to be awarded a bigger compensation package.
If you have suffered as a result of clinical negligence, don't suffer in silence! Please contact Fonseca Law today on 0800 156 0770, email: enquiries@fonsecalaw.co.uk or fill out our online claim form. You can also pop into our office in Ebbw Vale to speak with one of our solicitors face to face.