Personal injury claims for dog bite injuries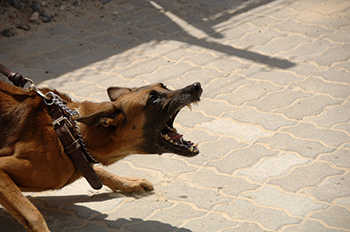 In the UK today, there are around 9 million dogs, making them one of the most popular pet types in British households. Thankfully, most dog owners are responsible and ensure that their pet is properly trained from a young age, but unfortunately, some owners fail to train their dog sufficiently, which can result in aggressive, dangerous and unwanted behaviour. It is estimated that around 200,000 people suffer as a result of a dog attack each year, with roughly 4,000-6,000 of these being serious enough to require medical attention in hospital.
If you have been bitten by a dog, we know that it can be a terrifying ordeal that may result in permanent physical and mental damage. Obviously, straight after the attack, you may not be thinking about pursuing a personal injury claim, but dog owners and handlers are responsible for making sure their animal doesn't pose a risk to other people. If they fail to do this, and you suffer a dog bite injury as a result, you could be eligible to claim compensation. In May 2014, the dangerous dog law for England and Wales was updated to criminalise any dog owner whose dog, regardless of breed, is behaving aggressively in a public place.
What should you do if you're bitten by a dog?
Should you be the victim of a dog bite, the first thing to do is determine the seriousness of any injuries sustained and get medical attention if needed. If you're then thinking about making a personal injury claim, there are a number of important ways you can increase your chances of success.
Whenever possible, you should try and identify the dog's owner and then report the attack to the police as soon as possible. You should then try and contact any eyewitnesses that may have seen the attack, and find out more about the dog's history, such as whether it has been violent or aggressive in the past. Finally, you should take as many photographs as you can of your initial injury and any subsequent scarring that occurs during the recovery process.
If you are unable to acquire all of the above, don't worry, please do still contact our experienced solicitors as we may still be able to help you claim compensation against the dog owner.
What happens next?
Once you contact us, one of our experienced lawyers will contact the dog owner and their lawyers to discuss the case and try and obtain a settlement outside of court. If the dog owner admits fault and settles, you'll receive the compensation amount agreed in the settlement. Otherwise, if the dog owner contests the claim, it will go to court where a judge will decide on whether the dog owner is liable. During the court proceedings, we will fight on your behalf to ensure you receive a fair amount of compensation that reflects your injuries and on-going medical care.
At Fonseca Law, we operate on a 'no win, no fee' basis, meaning if you win your case, you'll receive all the compensation minus our legal fees. If for some reason your claim is unsuccessful, you won't have to pay anything!
Claiming compensation if the dog owner cannot be found
In some cases a dog owner cannot be found, which means there is no party to claim compensation against. In these cases, your personal injury claim will be against the Criminal Injuries Compensation Authority (CICA). Unfortunately, claims against the CICA can be extremely complex due to the nature of the evidence required; the CICA doesn't pay compensation to everyone who claims due to these complex circumstances. Please do get in touch for more information about claiming against the CICA.
If you have suffered an injury as a result of a dog bite, please don't hesitate to contact our team of solicitors today on 0800 156 0770 or fill in our online claim evaluation form. You're also welcome to pop into our Ebbw Vale-based office to speak with one of our personal injury lawyers face-to-face.