Making a personal injury claim on behalf of a child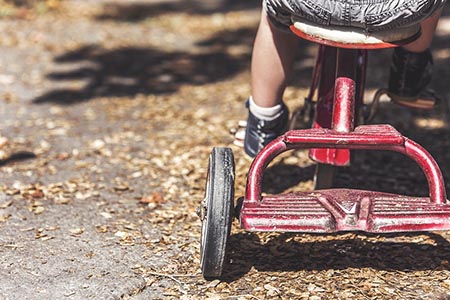 If you've suffered a personal injury that wasn't your fault, you'll know how traumatic it can be, and how much it can seriously affect your life going forward. However, if you have a child that has been injured, you'll know that the experience can be even worse, especially as you may be feeling guilt for not being able to protect your child, even if you couldn't do anything to prevent the accident. Many people believe that you can't claim compensation for injuries on children, but they're wrong; if you're sure that a third party was to blame for the accident, you have every right to claim compensation on behalf of your child.
The Children Act of 1989 includes a key piece of legislation which helps personal injury solicitors determine who is responsible for any negligence which leads to a personal injury. Under the Act, a person who is responsible for your child while not in your care, such as a teacher, doctor, or nursery nurse, is classed as 'in loco parents', which basically means that they should behave in a manner of a 'reasonable parent'. In claims where an 'in loco parent' has failed to act in this manner, and an injury has occurred, compensation can be claimed against the other party.
Under the Children Act 1989, the Health and Safety at Work Act 1974, and the Occupiers Liability Act 1957, if a child has been injured in a public space such as a supermarket or train station, compensation can be claimed against the people responsible for that public space if the area is deemed unsafe.
Making a personal injury claim on behalf of a child
The rules surrounding claims for children are naturally different to those for adults. As a child is classed as someone under the age of 18, they themselves are unable to pursue a compensation claim themselves, the responsibility for claiming falls on the parent, guardian or close relative. The person making the claim on the behalf of a child becomes known as a 'litigation friend', and because most personal injury claims involving children are related to birth defects or injuries during child birth, obviously, the 'litigation friend' is responsible for sourcing a solicitor and bringing the compensation claim on the child's behalf.
Timescales are also different for child personal injury claims. Under adult regulations, the victim usually has a period of three years to make a claim following an accident or the effects of the negligence becoming apparent. However, because someone under 18 cannot claim themselves, the three-year limit doesn't come into force until the day they turn 18. As with all personal injury claims, we recommend bringing the claim to court as soon as possible.
As with all personal injury claims, before making any claim, you should ensure that your child is well and that you take your child to a doctor as soon as possible. Medical evidence from a doctor will be required to determine the severity of the child's injury and level of compensation awarded. You should also try and obtain the details of any witnesses who were present, and take any photos of the accident scene that can support your claim. You should also try and obtain any police records relating to the accident to support your claim.
Once you have submitted all the evidence, our team of experienced personal injury solicitors will assess your claim and determine whether you have any legal grounds to begin a compensation claim on your child's behalf. If we determine that a third party is liable, we will contact them and their insurers with a settlement package offer, which, if they accept, will see you awarded the agreed compensation offer. If the third party denies liability, the claim will go to court where a judge will rule on who is responsible and how much compensation can be awarded.
Here at Fonseca Law, we understand that any injury involving your child can be a traumatic experience, but we can help you win compensation which can help your child overcome their injuries or pay for on-going care and support. To find out more, contact us today on 0800 167 0770, email: enquiries@fonsecalaw.co.uk or pop into our office in Ebbw Vale, South Wales.