Claiming for a trip, slip or fall in a public place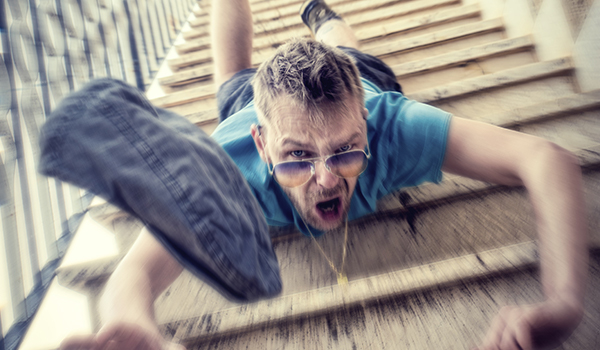 No matter where we are, whether in the hustle and bustle of a city centre or enjoying parks, public spaces or the countryside, accidents can and do happen. For those who do experience an accident through a trip, slip or fall, it's likely they will want to enlist expert legal help to pursue a personal injury claim to win compensation that they may be entitled to. But what steps must be taken in order to make this claim? And who or what is to blame if an accident does occur?
Find out who is responsible
One of the first things to investigate is who is actually responsible for the upkeep of the public space. It's often the responsibility of the local council to maintain and upkeep these types of areas, therefore any claim will likely have to be made against them. Sometimes an area may be owned by other organisations such as the National Trust or a charity. Whoever happens to hold responsibility of the area, it's always possible that the defendant may deny liability for the accident, but things can still be done to increase your chances of a successful claim.
Capture photographic evidence
It's a good idea to capture photographic evidence where possible of the object or defect that caused the fall, including the surrounding area and any clear landmarks that may be in view. Accurate measurements are also helpful as are videos of the scene that you can record on a mobile phone. This should all be done before the accident is reported to the owner of the premises as any defects that have been repaired won't be captured and it may also be impossible to accurately measure afterwards. Any pictures, videos and measurements can then be reported by e-mail to the organisation who are responsible for the upkeep of the location.
Witness statements
If witnesses were present when the accident took place, or if people attended the scene to offer you help, ask them if they are willing to provide their contact details so that you can pass these on to your solicitor who will be able to use statements in support of your case. You will never be asked to take a witness statement yourself, that will be something your solicitor takes care of once you've passed over their details.
Seek medical attention
The final and perhaps most important step to take is to seek professional medical attention following the accident. Any compensation that is to be received will have a direct correlation with the severity of injuries sustained, so a solicitor will have to request a published report on your injuries from a medical expert. It's likely the medical expert will wish to view copies of previous medical records so that accuracy can be guaranteed when publishing.
Seeking legal advice following an accident may seem daunting at first, as you'll be keen for assurances that the solicitor firm you instruct have the correct expertise and professionalism to ensure a claim for compensation is pursued competently and efficiently with a satisfactory result.
If you've suffered an accident in a public place, either recently or within the last 3 years, then don't hesitate to get in touch with our team of solicitors here at Fonseca Law. Our personal injury experts have been helping people just like you win their compensation claims for many years, and have the knowledge and drive to ensure your claim has the best chance of a positive result. Call us on 01495 303124, e-mail enquiries@fonsecalaw.co.uk or complete the online contact form.