Ivor's Horrible Holiday: what to do about holiday claims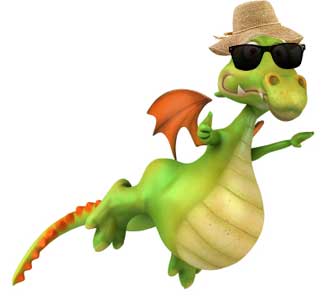 Summer is here! So a few weeks ago I decided to go on my holidays. But things did not go according to plan. Fortunately, my colleagues at Fonseca Law were able to deal with it...
We dragons love the Welsh mountains but for a change of scenery this year I flew myself off to the Massif Central, South of France. (I'm a very green dragon and like to cut down on greenhouse gasses!) Passport in hand, I waved goodbye to my colleagues at Fonseca Claims. "See you in a week's time!" I said. But little did I know what was ahead.
Apart from my flights, the whole package holiday was booked through Valleys Travel. For my first night, they'd found me a nice little hotel in Clermont-Ferrard near to the dormant French volcanoes. But when I got there, the place was dirty… the room was damp, the food undercooked, and the cutlery not washed up properly.
Since I was only there one night before heading further south, I thought I'd just put up with it. But that night was awful – I was violently sick!
Believe me, a dragon throwing up is not something you want to see. I lose control of my flames and end up roasting everything I bring up. Burned vomit is not pleasant! It was food poisoning, all right. It meant I had to stay holed up in bed: no volcanoes, no mountains, no travel on to my next destination.
I was pretty gutted, believe you me. My holiday was ruined. By the time I got better, it was time for me to fly back.
"How was your holiday?" asked Mr Thickins when I got back to Ebbw Vale and the Fonseca Law office.
"Terrible!" I said, and recounted the whole sorry tale. "But what can be done about it?"
"Quite a lot, actually," he told me. "You're probably entitled to compensation."
"How's that?" I said. "It all happened in France!"
"The general legal principle is that claims are made in the country where the accident occurred. But if the accident was the responsibility of a UK national or company, then you can bring an international compensation claim to a British court," he explained. "They should have made sure that your hotel was fit for you to stay in. Recently a couple received £10,000 for a case like yours, when they caught salmonella on holiday in the Maldives."
"Great! So you can help me make a compensation claim?" I asked.
"We'll need to look at all the details, but hopefully yes. You'd better hurry though – there are strict time limits on bringing claims."
I wish you all happy and safe holidays but it's sad to see that accidents sometimes happen while we are abroad, like serious food poisoning or personal injury. Even with travel insurance in place this can be a stressful time, handling unfamiliar healthcare systems, foreign languages and disrupted travel plans. Making a personal injury claim abroad can also be complicated but Fonseca & Partners has the legal knowledge, training and expertise to advise you.
If you have an accident abroad, call us today on 01495 303124 or use our online claim form. You can even call into our offices in Ebbw Vale if you would like to speak with our solicitors face to face!