Ivor gets an iPad: gadgets and product liability claims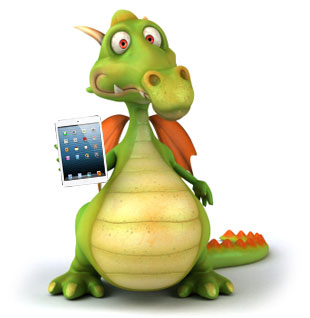 Wanting to be a cutting edge, technologically savvy dragon, I recently invested in a new iPad. Oh, how my reptilian eyes love that pin-sharp retina screen! Now I can swipe and pinch and download apps with the best of them.
But then I found that all this hi-tech wizardry is a hot piece of kit – literally. I hadn't expected it to double as a hot water bottle to take with me to bed on a wintery night, but it seemed to run a bit on the cosy side, especially in the lower corner.
However, some customers have said they've found it "too hot to hold", and other have found it almost 10 degrees hotter than the previous iPad. According to Apple, it operates "well within its thermal specifications".
As a cold-blooded creature, I need to be careful to regulate my temperature by controlling my external environment – not by internal heat like you energy-inefficient mammals. But it turns out a bit of warmth from a gadget seems to be fairly normal – it happens to laptops and phones, as well as tablet computers.
In 2010, a class-action lawsuit alleging that the iPad had overheating problems when used in sunshine and warm weather was brought in California. Now this probably won't be a problem here in Ebbw Vale in any case! But the US District Court judge dismissed the case, since the charges were not strong enough.
The plaintiffs, Claudia Keller, Jacob Balthazar and John Browning, claimed that Apple's marketing campaigns deceived them into buying the device, saying that "reading on iPad is just like reading a book". Judge Jeremy Fogle said "Plaintiffs must identify the particular commercial or advertisement upon which they relied and must describe with the requisite specificity the content of that particular commercial or advertisement."
As a consumer, you have product liability rights that cover everything from furniture to electronic gadgets and gizmos, whether that's an Apple iPad, a Samsung smartphone, an Android tablet or whatever other technology you might be using. If a product does not match up to its marketing, there might be a case for deceptive marketing – but it needs to be much more specific than this case, which was rather vague.
For Apple to be liable because of a product overheating, it would need to be outside thermal specifications and cause actual injury, rather than feeling a bit warm. If your iPad exploded or caught fire, you would almost certainly have a case! But not if you put it in the microwave, as one daftie did with his Samsung Galaxy S3 smartphone.
But now that Apple have brought out an iPad mini, perfect for a species of restricted height such as myself (being a small breed of dragon, after all), I fear I may have to upgrade. Unfortunately I can't claim compensation for my technological addiction!
If you have suffered an injury due to a product you have bought or own, you may be entitled to product liability compensation. This does not just apply to electronic gadgets, but to all goods, from garden tools to food to toys. If you think you might be able to claim, please contact us for a free appointment!