Season Greetings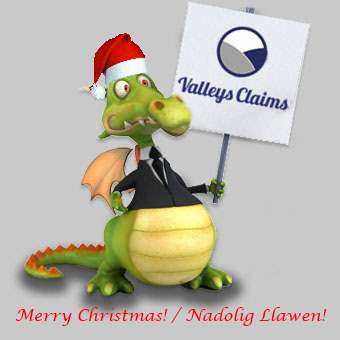 2012 has been a busy year for me. I became a Personal Injury solicitor – I am the first dragon to ever become one! – I got food poisoning in July during my holidays, slipped in my supermarket and broke my tail, I got myself a new IPad and almost burnt myself with it and I got shot with fireworks! Let's not forget that the nice cave I live in got flooded…
As I said it has been a busy year and so many things have happened. I mostly blogged about the bad things but in the end since my colleagues at Fonseca Law helped me out with my claims and since I received compensation for all my misadventures, "All's well that ends well" as Shakespeare said (yes I am a literate dragon).
The end of the year is much quieter for me. We had a brilliant Christmas party with my colleagues. I must say I may have had a bit too many mince pies but they're so good!! We had some Christmas crackers too and the party hats were too small for my head so one of my fellow solicitors made one just for me! I must say I haven't understood all the cracker jokes but it doesn't matter, I had a fantastic time. It was my first real Christmas since I was taken in by Fonseca Law.
You should see my cave all decorated for Christmas: I think I got the hang of it. I have made my cave fire-proof in order to avoid setting everything on fire when I cough or when I sneeze, which allowed me to put candles all around the house. When I come home after work I can just blow a flame or two and all the candles light up! I don't have a Christmas tree in the house but I got a whole forest of them around my cave so I put some baubles on one – nothing too easy to spot, just in case a dragon hunter came around.
I have days off for Christmas and New Year's Eve and this time I will not get sick during my holidays! I will go skiing and I promised myself to come back in one piece. I am already looking forward to eating cheese fondues and raclettes after spending the day in the mountain, yummy! I am also thinking of learning snowboarding but I may bit a bit too clumsy for that…
I wish you all a Merry Christmas (or Nadolig Llawen as we say in Welsh) and I wish all your dreams to come true in 2013. May the New Year bring you joy, happiness, health and all you can wish for.
And if you are ever in trouble, please know that we are here to help you out, all you need to do is contact us.
Our Ebbw Vale office will be open on 28/12/2012 and 31/12/2012, and will re-open on 2/01/2012, Merry Christmas to all our clients! We can be reached on mobile phone any time during Christmas.