Worn-out roads leading to 50,000 pothole claims in the UK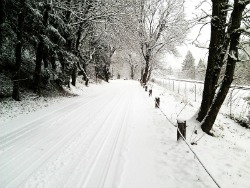 Thanks to a combination of freezing winters, poor surface maintenance and the ever-increasing number of vehicles on the UK's roads, potholes have rapidly become a nightmare for British motorists. Potholes are estimated to cost motorists £370 million a year in vehicle damage and mechanical failures, not to mention the fact that they're also responsible for a wide range of personal injuries, from jarred backs to serious head injuries.
Unfortunately, potholes can remain unrepaired for months or even years, depending on how quickly they're noticed and reported to the relevant council, and new data published by the RAC Foundation has revealed that the number of compensation claims for damage caused to vehicles as a result of potholes is growing. The charity issued Freedom of Information requests to 207 local highway authorities in England, Scotland and Wales, and the 200 that responded revealed a combined total of 48,664 compensation claims in the 2013/2014 financial year. According to the foundation, this is the equivalent of roughly one claim every 11 minutes and is a 5.19% increase on the 46,139 claims recorded in 2012/2013.
Council compensation pay outs
The RAC Foundation revealed that while there were nearly 50,000 claims in the last financial year, councils subsequently refused the majority of them, only paying out in less than 23% of cases. In total, local councils in England, Scotland and Wales paid out £3.2 million in compensation in the 2013/2014 financial year. The report also found that the average compensation pay out was £286, while the average administrative cost for each claim was £147.
Of the 42,662 compensation claims filed in England last year, 9,792 were successful, and altogether councils in England paid out a total of £2.9 million. In Scotland, there were 1,126 successful claims out of the 4,511 made, for a total of £228,000 spent on compensation costs. Wales had the lowest number of claims with 1,491 cases – including 226 successful ones, for a total value of £73,000.
Councils aren't doing enough to maintain the quality of roads
The highway department of a local council is generally responsible for the maintenance of pavements, roads and motorways, and the department is expected to frequently inspect roads and pavements for potholes and other dangers. However, Professor Stephen Glaister, Director of the RAC Foundation, has indicated that councils are not being given enough money to properly maintain their road networks. He said that the problem lies square at the door of the UK Government because they don't give local councils enough money to keep their road networks up to the required standards.
Professor Glaister continued by warning of the dangers of potholes and poor road surfaces, saying that they do not just cause damage to vehicles but can cause serious injury to drivers, especially cyclists and motorcyclists.
A spokeswoman for the Department of Transport responded, saying that the UK Government has provided £4.7 billion since 2010 to fix issues such as potholes and is planning to spend a further £6 billion between 2015 and 2021 in order to ensure local councils maintain their road networks.
Make a personal injury claim with us today
At Fonseca Law, our focus is on you; so if you have suffered a personal injury from driving or cycling over a pothole, get in touch with us today! You can contact our experienced team based in Ebbw Vale, South Wales on 0800 156 0770 or fill in one of our online claim forms. And if you see a pothole in the Ebbw Vale area, please report it to the Blaenau Gwent County Borough Council.