What are the most common personal injury claims in the UK?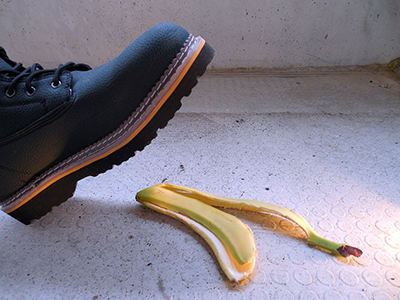 In the UK today, an estimated three million people are injured in accidents each year, which represents almost 5% of the British population. These accidents commonly take place on the road, at home, at work or in public spaces such as supermarkets, retail outlets or recreational locations, and if you've suffered a personal injury that wasn't your fault, you may be entitled to compensation regardless of what type of accident it was.
Despite 3 million people suffering an accident each year, not many people know what the most common types of personal injury claims are, but research by YouGov has shed some light on this question, and the results aren't too surprising.
Road Traffic Accidents
Considering that the current estimated number of cars on UK roads stands at 31.7 million, it doesn't come as a surprise that 50% of all personal injury claims in the UK are related to road traffic accidents. It doesn't matter how many measures you take to be safe and careful on the road, there will always be reckless drivers and this naturally leads to accidents.
Thankfully, most road traffic accidents are minor (just a few bumps and scratches here and there), and the number of accidents on UK roads is actually falling! However, if you've been involved in an accident on the road and sustained an injury such as whiplash, broken bones or even mental conditions such as post-traumatic stress disorder, we can help you claim the compensation you deserve. What's more, we can even help passengers, cyclists and pedestrians claim compensation or help people make claims on behalf of children.
Accidents in public spaces
Have you ever slipped on spilt milk in the supermarket or tripped over an uneven pavement while walking down the street? If so, you could be eligible to claim compensation against the guilty party, which in these cases would be the supermarket or your council. The YouGov research found that accidents in public spaces accounted for around 21% of all personal injury claims, making them the second most common in the UK.
All public and private organisations have a duty of care to ensure all visitors to their premises are safe and well looked after. If they fall below this standard, and you're injured as a result, you could be eligible for compensation. Along with the two examples mentioned above, here at Fonseca Law we can also help people claim for injuries to children caused by defective utility grids or playground equipment, illnesses caused be poorly maintained council homes and even injuries to cyclists and motorcyclists caused by potholes.
Accidents at work
The third most common personal injury claims in the UK in 2015 were claims for accidents at work, with the YouGov research revealing that around 16% of all claims were for people injured in their place of work. An employer has a legal responsibility to ensure their work location(s) are fit for purpose and that all the necessary measures have been taken to ensure the safety of their employees. If these health and safety measures haven't been implemented and you get injured, you could be able to make a claim.
It's a common misconception that accidents at work are just for manual labour jobs where an employee can suffer from an accident involving defective machinery, wet or dangerous surfaces, or exposure to dangerous chemicals or substances. However, you could also be able to claim compensation if you've suffered a repetitive strain injury, or even a mental condition such as depression due to excessive stress at work.
While the claims mentioned above are the most common types of personal injuries, our team of experienced solicitors can also help you make a claim for clinical negligence, product liability, accidents abroad and even professional negligence. To find out if you have a claim contact us today on 0800 156 0770, email enquiries@fonsecalaw.co.uk or come and visit us in our office based in Ebbw Vale, South Wales.