Making a personal injury claim: what documents do you need?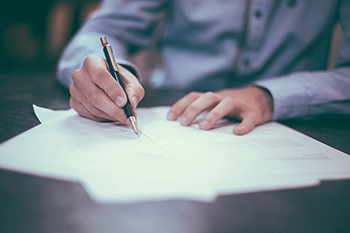 As an Ebbw Vale-based personal injury solicitors firm, we handle hundreds of accident claims every year, including claims for road traffic accidents, accidents abroad and clinical negligence. While each claim is unique, a common question we are asked by clients is "what documents do I need to provide to ensure a successful claim?"
There is no simple answer to this question because every claim is different, and the documents that are required will differ depending on what you're claiming for; there are also some documents which are needed in every personal injury claim, all of which we've detailed below. However, no matter what you're claiming for, you need to provide evidence which supports your claim, as without it, you'll be less likely to win compensation.
What documents do you need initially?
It doesn't matter if you're claiming for an accident at work, or making a product liability claim, you'll need to provide some documentation from the outset. The documents you are commonly requested to produce relate to identification and funding; this means that you'll likely need to provide identification documents such as a passport or a driving licence, along with your National Insurance Number. You will also be required to provide your solicitor with documentation relating to how you're planning on funding your personal injury claim; this might take the form of insurance policies such as motor or household insurance. We do this so that we can check if you have any pre-existing legal expense insurance which could be used to assist with your claim.
What documents do you need to prove liability?
Once you have spoken with a solicitor about your personal injury claim, they will assess your situation to determine whether the claim has a chance of being successful. To make the most accurate decision, it would be beneficial if you can provide documents such as photos of your injuries, photos from the location of the accident, any witness statements and any written reports about the accident, such as police reports etc.
Depending on the type of personal injury claim, you may be required to provide additional documentation such as medical evidence for industrial disease cases, photos of raised pavements or potholes for trip and slip cases, machinery specifications for accidents at work, and even sketch plans for road traffic accidents. Once you've made contact, our team of personal injury solicitors will be able to better advise you on what documentation you may need to provide.
Additional documentation
Along with the evidence mentioned above, it would greatly help your claim's chance of success if you can provide a diary of the events that occurred. Ideally, this diary should recall everything from the circumstances leading up to the accident, to the events that immediately followed the accident. This may include taking note of everything, from the weather to your conversations with doctors or insurance companies.
If possible, it would be helpful for you to make note of any family and friends who have helped you during your recovery process, or who were also involved in the accident. This means we have witnesses to contact should the other party deny liability and the case goes to court.
Have you been injured through no fault of your own? If so, we can help you make a claim for compensation. To speak with one of our solicitors, please contact us on 0800 156 0770, email enquiries@fonsecalaw.co.uk or pop into our Ebbw Vale office in South Wales.